Are you interested in breeding mealworms on a small or larger scale? Then you have come to the best place with us. For standard small-scale breeding with manual feeding and harvesting or switching to semi/full automic breeding, we can help you with the necessary products.
If you have any questions, please do not hesitate to contact our product specialists.
Breeding by machine or by hand
For the cultivation of mealworms, we have to see whether it is done manually or mechanically.
With mechanical cultivation, the cultivation boxes must be coordinated with the manufacturer of the machines. We are happy to embark on this journey together. For more information, please contact your account manager.
With manual cultivation, one often opts for cultivation in stacks and/or racks.
It is very important that sufficient airflow is possible during cultivation. Mealworms create heat and if it can't get away, they die from these elevated temperatures.
Farming in stacks
Special stacking containers are used for breeding mealworms. The high stacking angles in combination with the lowered side walls ensure good air circulation between the stacked containers. The stable egg-laying sieve insert can be easily moved while the eggs and larvae remain in the container.
Farming in racks
Low plastic containers in combination with racks are often used for the cultivation of mealworms. Internal height of 65 or 120 mm.
The advantage of working with racks is that with an accelerated or delayed cultivation process you can only move the relevant containers without disturbing the entire stack.
The racks can be supplied with one or two columns, on feet or wheels, one bin deep or two bins deep. Depending on your internal process, we can offer the appropriate solution here.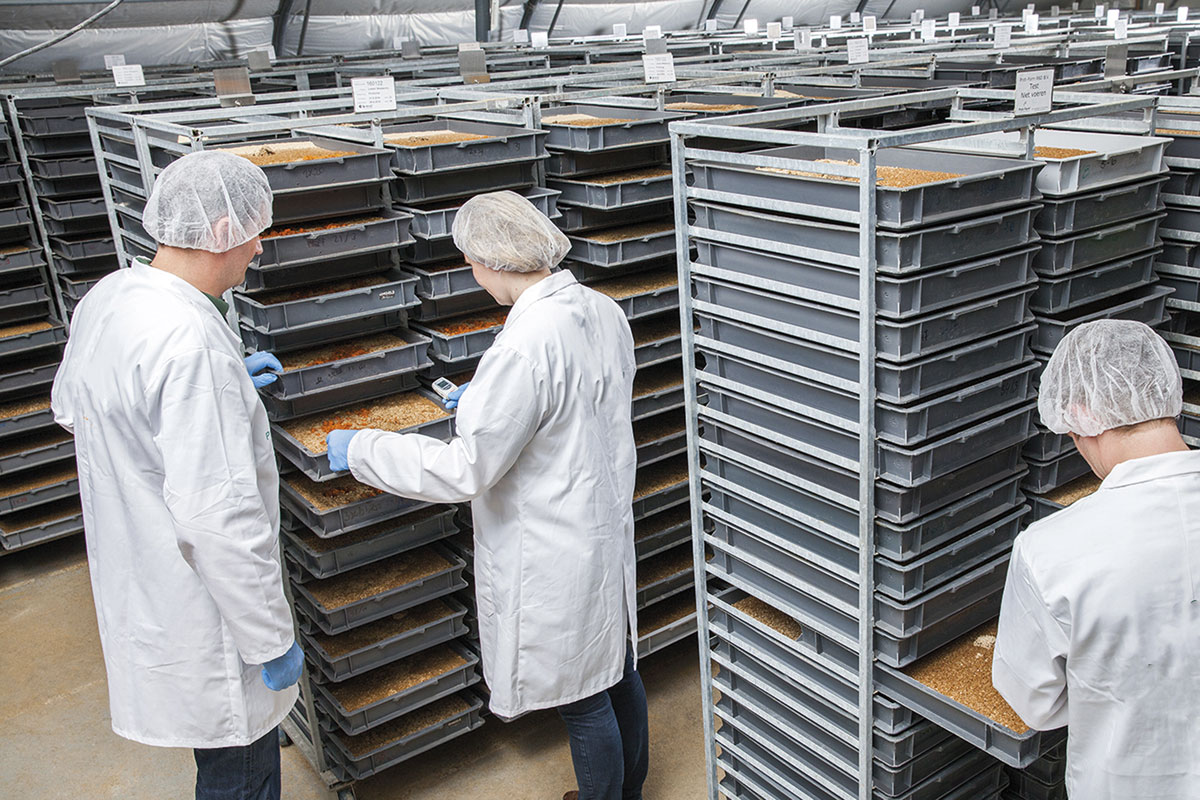 The breeding process: from egg to larva to mealworm
A good infrastructure and the right basic material are essential when starting the cultivation.
Mealworms can live in the same grow room without disturbing the breeding. It is recommended to keep the reproduction area in a separate room to limit the spread of disease. Harvesting, cleaning bins, mixing food and weighing feed is better done in a specially equipped workspace.
The insects are subdivided per life stage in marked plastic breeding trays. Breeding trays with insects in the same life stage can be stacked. Once a bin of bugs has reached the next stage, move the bin(s) to the new pile.
The first weeks are all about feeding. When the dry food is (almost) completely processed, you should immediately add additional feed. You add the wet food at least 3 times a week.
After 8 to 11 weeks, the mealworms can be harvested with a sieve (mesh size 2-3 mm). The remaining food and frass fall through the sieve, the mealworms remain on top.
If you can keep all conditions optimal, a yield of 2 kg of live mealworms per breeding container of 40 x 60 cm (2400 cm²) is achievable.
Other interesting products for insect breeding