drums, tubs, pails & baskets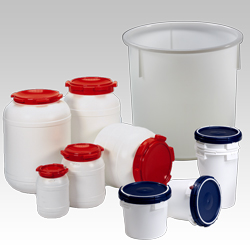 Engels supplies plastic drums, pails, tubs and buckets in a hygienic, heavy-duty and industrial version. In short, there is a suitable container for every application. The plastic jars, pails and drums with screw lids are made of high density polyethylene (HDPE) and offer protection against moisture, manipulation and shock loads. Ideal for the pharmaceutic, chemical and food industry.
Plastic containers made of high density polyethylene (HDPE) for the handling and manufacturing of pharma, chemical and food products
Jars, drums and barrels with screw lid
Plastic jars and drums with screw lid have a large opening and are easy to open and close. The drums and jars are water (vapor) proof, tamper evident and UN-certified for hazardous solids and are mainly used in the food, chemical and pharmaceutical industries. To prevent undesired access to the product, the plastic pots and barrels are provided with a percussion protection. Nestable drums can be stacked together to reduce storage space. Volumes vary from 3.6 to 110 liters. Wide neck drums are stable stackable and palletisable, for optimal safety during transport and storage.
Round containers, tubs and pails
Also mainly used in the food, chemical and pharmaceutical industries are the round containers, tubs and pails made of high density polyethylene (HDPE). The round containers have a large volume of up to 200 liters and are nestable up to 2/3, so they can also be easily disassembled. Not all containers have handles, but they all are easy to lift due to the wide top edge. Suitable for storage and transport for the food industry.
The plastic pails have a content marking and a pouring spout and are available from 5,5 to 28 litres. All plastic pails are suitable for food. In combination with a click-on lid they can be used as packaging for example boiled or peeled eggs.
Especially for the food industry, we supply food-compatible hand beaker, stirrers, scrapers and spades. With this we respond to the strict requirements regarding hygiene processes. Different system code colors make it possible to prevent cross-contamination.
For the construction and manufacturing industry, Engels supplies concrete and cement tubs and buckets in various sizes are made of high-quality polyethylene and are therefore heavy-duty and robust. Guaranteed a long life. Ask about all applications!