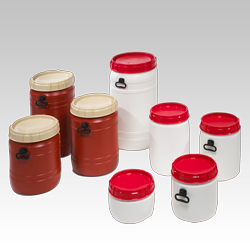 Kunststof vaten met schroefdeksel hebben een grote opening waardoor de inhoud gemakkelijk en volledig kan worden verwijderd. Het deksel is eenvoudig te openen en te sluiten. De vaten zijn water(damp)dicht, tamper evident verzegelbaar en UN-gecertificeerd voor gevaarlijke vaste stoffen.
Wijdmondse vaten zijn wit met een rood deksel, Super wijdmondse vaten zijn wit of bruin met een rood of beige deksel en Nestbare vaten zijn wit met een blauw deksel.
Nestbare vaten kunnen in elkaar gestapeld worden zodat ze leeg minder magazijnruimte beslaan.
Plastic drums with screw lids have a large opening that allows easy and complete removal of the contents. The lid is easy to open and close. The drums are water (vapour) tight, tamper evident sealable and UN certified for hazardous solids.

The wide-opening drums are made of high-density polyethylene (HDPE), free of cadmium and other heavy metals. Wide-mouth barrels are stably stackable and palletizable, so that optimum safety is achieved during transport and storage.
Wide neck drums have been fortified with rolling ribs, which allows you to tip them over and roll the drums, for instance to mix the contents.
Space-saving plastic drums
Nestable screw-top drums, like the wide-opening drums, have a UN mark (1H2) for solids and are suitable for use with food. An additional advantage is that they take up less space when empty because they can be nested. Easy to carry drums due to the handles. The lid has a watertight seal and includes a tamper evident facility for a sealing strip.
Technical information
All drums are suitable for food.
Different colors and designs are available on request.
All drums are sealable.
Maximum filling temperature is 80°C.
The contents must be cooled to 30°C before the vessel can be completely closed and stacked.
All drums can be closed air-tight, water-tight and water-vapour-tight several times.
UN approved for solid and pasty substances.