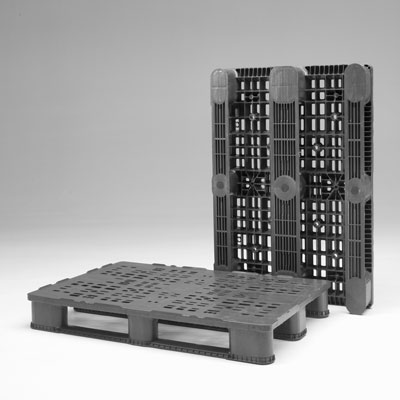 Robust pallets with a wide application area. The pallets are available with both a closed deck and an open deck. They have good mechanical properties and can also be used in high-rise racking. Perfect pallet for trouble-free use in automatic pallet shuttle systems, transport on roller and chain conveyors, robotization and the mechanical loading and wrapping of pallets.
Medium to Heavy duty pallet
Medium duty pallets (MEPAL) can basically be used as a lightweight pallet for an average load, also in a warehouse racking. But due to optional steel reinforcement profiles inside the pallet, they can be used for a heavy load, up to 1250 kg in the warehouse racking. These profiles are fully protected against corrosion.
Heavy duty pallets (HYPAL) are high-quality pallets made of tough polypropylene, suitable for very heavy loads, both static and dynamic. In addition, the Hypal heavy-duty pallets can be used in high-rise racking with a load capacity of up to 1000 kg.
Sustainability and quality
Plastic pallets are dimensionally stable and durable. Loss and damage due to breakage are commonplace for wooden pallets, but this does not apply to plastic pallets. Exact dimensions and design ensure high process reliability. In addition, they can be adapted to automated storage and order picking systems.
The one-time purchase costs for plastic pallets are high when compared to the purchase costs for wooden pallets. However, the other costs that arise in a logistics chain are clearly lower. Nestability, lower cleaning costs, less breakage due to damage to the pallets, the elimination of repacking costs or unnecessary machine downtimes and problem-free processing – all this contributes to an enormous cost advantage when using plastic pallets in modern logistics. At the end of its life, the plastic pallet will also retain its material value. The pallet can be 100% recycled and processed into a new pallet.