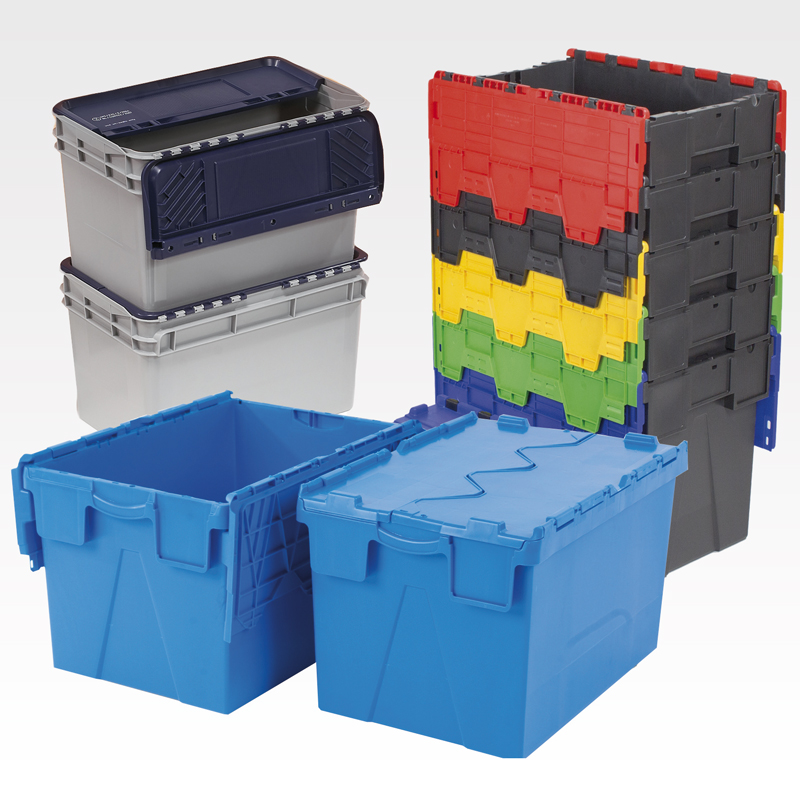 Attached lid containers are the sustainable alternative to cardboard boxes. The attached lid containers from Engels are much stronger than cardboard boxes, which means they have paid for themselves after five return transports. With our mission to make a sustainable contribution to the environment, Engels is committed to the use of reusable packaging.
The strong attached lid containers transport your products safely between stores, distribution centers or wholesalers. With the great advantage that they can be nested in each other when empty. This results in significant savings in space and costs for transport and storage. The risk of transport damage is small for the contents of distribution bins.
E-Line Distribox attached lid container, durable
E-Line Distribox attached lid containers, are available in 3 sizes. The Distribox distribution bins are supplied standard with a black body and colored lid (choice out of five colors), creating 5 combinations per size. The lids make it easy to add a color accent to the Distribox. These color accents can contribute to providing insight into the use of the attached lid container, the department that uses the Distribox or simply matches your wishes.
The lid is sealable with an arrowlock seal or a tail seal so that you know at a glance that no one has been through the contents. Discussion about compensation will be spared.
Distribox attached lid containers, food grade
Distribox food grade attached lid containers are very strong and can handle a high load. The design of the bottom and lid allow heavy loads in the stack in combination with both bins and pallets. The turn-over edge is low, so that an above-average number (up to 17) of boxes go into the stack. The attached lid containers have a circumferential gripping edge so that the lidded crate can be handled from both the short and the long side. Furthermore, the distribox is completely smooth and made from food-grade plastic.
Large volume attached lid containers
Frequently used in the moving industry, the large-volume attached lid containers are also called meter bins. One shelf (meter) of archive fits in one bin. The Euro standard size is not always the ideal format for your application. Engels has been supplying various types of attached lid containers for years and is happy to advise you.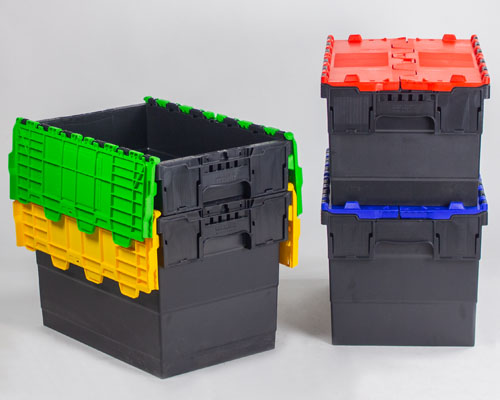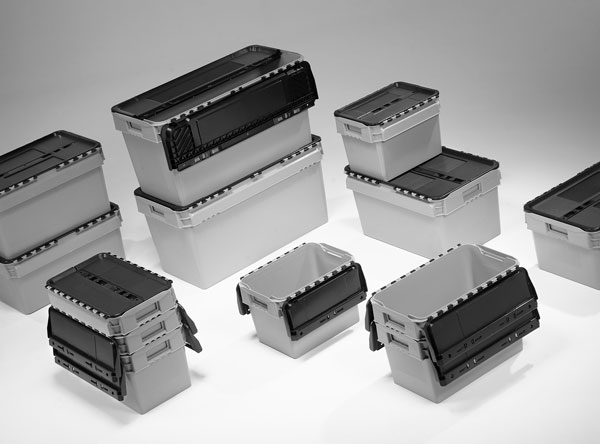 In order to provide extra protection and security for vulnerable items during transport, we supply reusable solutions instead of fillers (such as plastic chips); foldable interiors or "suspension files" of textile or velcro for fixation on shock-absorbing foam.
There are various possibilities in the field of marking the Distribox attached lid container: indelible printing by hot stamp, tampon or screen printing. Data regarding content, delivery or return address travels with the Distribox attached lid container by using label holder, sticker surface, RFID tag or bar coding.
You can also contact Engels to build in extra security during transport. With the various seals you can almost be sure that no one was inspecting the contents on the way.
seals
interiors
pallet lid for shipping unit (see photo)
prints
labels