We offer a wide range of plastic cases such as stackable cases, presentation cases, waterproof cases and flight cases. Our stackable Euroline plastic cases are very suitable for industrial use and available from stock in both sustainably recycled (E-line) and virgin material.
A wide range of plastic cases
Stackable Euro storage cases
By providing our Normbox plastic bins with a case handle and a lid, a plastic stackable case is created. The plastic case can be easily locked and opened thanks to the patented snap closures.
The suitcases are stackable and can be loaded up to hundreds of kilos. Plastic cases are strong and last a lifetime, making them sustainable packaging for your products.
The strong and practical cases are used in all kinds of industries and companies, from internal transport in hospitals to the storage of tools in service trucks.
Also available in recycle and ESD version
The stackable Euro standard cases are also available in the favorably priced recycle version (E-line) and in an ESD (Electro Static Discharge) safe version. If the cases are temporarily out of stock, we will assemble them for you within a week.
Extensive range of standard accessories
Due to the many applications for which our plastic cases and plastic boxes are used, we have built up a wide range of standard accessories.
various lids
divisions
foam interiors
inset boxes
locks and seals
prints and markings
Protective transport packaging is indispensable for transporting professional and valuable equipment. These waterproof shockproof cases offer protection against extreme (weather) conditions.
The IP67 certification shows that these IP67 cases are waterproof and completely dust-free. The waterproof cases can withstand all weather conditions and are shockproof.
The heavy duty case comes standard with a plucked foam interior, which protects the contents very well. The plucked foam is a standard pre-punched foam interior that you can easily adjust to the correct size of your product and is also available for the other plastic cases and plastic boxes.
The advantage of plastic sheet material lies in the weight-load capacity ratio. With a thickness of 15 mm, the plates can be loaded up to 2 tons!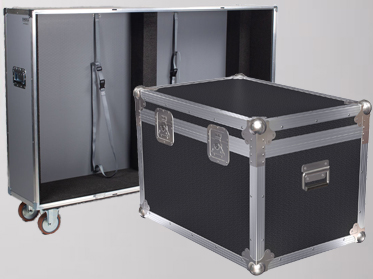 Plastic presentation cases or showcases are attractive cheap (yet sturdy!) cases that can be printed on both sides. You can think of a full-color screen print, or your logo in relief, for an optimal representative result. We can provide the inside with various interiors made of foam material or vacuum-formed inlays.