dishwasher baskets and glass racks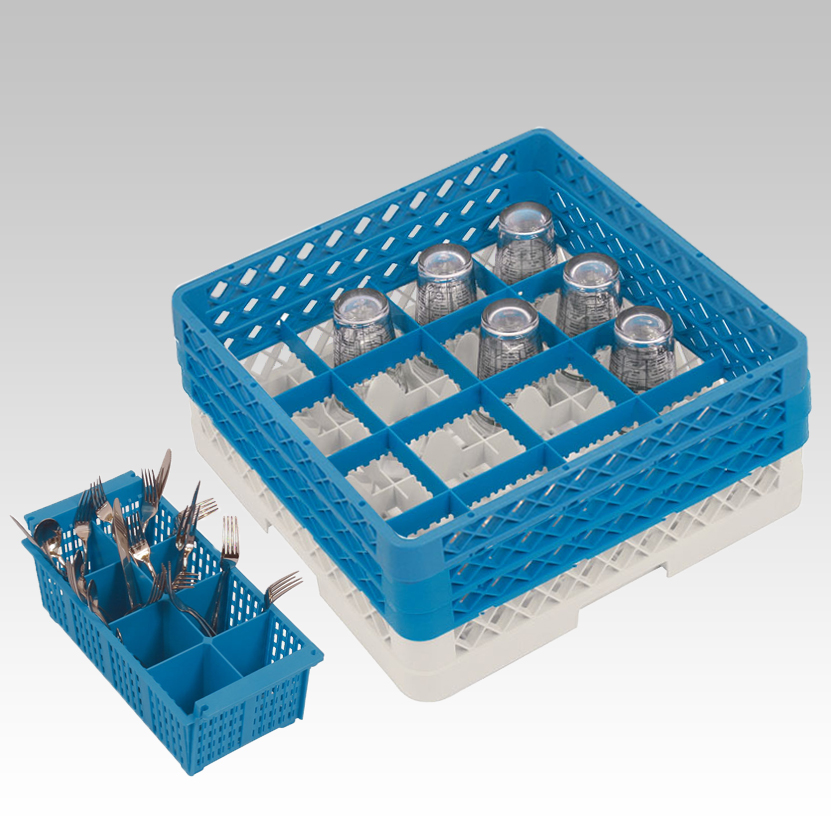 Dishwasher baskets and glass racks are made to ease the logistical work in the catering industry and for the caterer. The dish racks are optimized for every type of crockery, stackable and suitable for industrial dishwashers. The dishwasher racks can be assembled from various bottom types for various types of dishes and with different inserts and extensions. The standard gastronorm dimensions of the bottoms are 500 x 500 x 100 mm.
Robust dishwasher trays and glass racks reduce the risk of breakage, save space and the extra large mesh size ensures an optimal washing result. The dish racks are made of polypropylene and guarantee a long, trouble-free life.
Our dishwasher baskets are available in a large number of versions and can be optimized for every type of dishware and are ideally for catering and professional kitchens.
Dishwasher baskets for cutlery have a fine mesh bottom that works effectively for cutlery.
Dishwashing racks for plates are characterized by cast-in pins
Dishwasher racks for glasses are available in 9  -16 - 25 - 36 - 49 compartments
Universal dishwasher baskets with a large-mesh bottom for maximum water circulation
The dishwasher baskets and glass racks can be raised with top extensions. Each additional ring means an increase of 40 mm. The open top extensions are used to create more distance when full racks are stacked on top of each other. The top extensions are also very suitable for providing maximum separation and protection between the glasses.
The click-on system makes screws or other fasteners unnecessary. Once applied, the extensions do not come off.
Accessories for dishwasher baskets
The dishwasher baskets have a large number of accessories, which make handling the dishes easy, such as:
Click-on top extensions; adds 40 mm to the dishwasher baskets with each ring.
Universal cover lids
Trolleys, also called dish rack trolley
Cutlery trays and baskets
Label holders, or identification clip (matched to the dimensions of the dishwasher baskets)
Do you have questions or wishes? Please feel free to contact us.