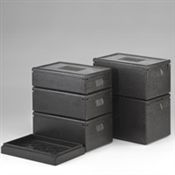 Thermoboxes are made of impact-resistant EPP (expanded polypropylene), which is known for its excellent insulating properties, is very strong, but also surprisingly light in weight. Thermo boxes can be used at temperatures from –40°C to +120°C. Whether a product needs to be kept cool or warm, these boxes know how to maintain the inside temperature for a long time. These thermo boxes are therefore very popular in the catering and restaurant sector as a food delivery box.
Gastronorm, Euronorm or pizza boxes
EPP thermo boxes are available for various purposes. For gastronorm containers and dishes there is the GN series gastronorm thermo boxes, suitable for GN1/1 and GN1/2 dishes up to 200 mm deep. Cutouts on the outside and inside of the thermobox ensure that the gastronorm containers can be easily loaded and unloaded.
All-round thermo boxes follow the Euronorm dimensions and are used as an insulating container around the standard Euronorm stacking containers.
Pizza boxes made of EPP foam are square and have a maximum inner height of 250 mm. Larger format pizza boxes can be found with our channel plate or plastic scooter boxes.
For the transport of larger volumes of gastronorm and euronorm containers, we supply front loaders or front loaders made of EPP foam. EPP front loaders have a hinged door or a sliding panel on the front. They are robust yet light and therefore easy to stack and transport on a transport roller.
Features thermo box:
robust, made of EPP
durable and lightweight
excellent insulation (from - 40 ° to +120 ° C) with high thermal stability
perfect for hot, cold and fresh food
hygienic and dishwasher safe
100% recyclable
tight-fitting lid
in accordance with EC regulation 1935/2004

The thermo boxes can be provided with inserts and elements so that the contents remain at the desired temperature (warm or cold) for a certain time. By providing the thermo box with inserts for cooling or heating elements, there is no contact with the contents and it still remains at the right temperature. Color-marked cooling and freezing plates have reinforced corners and ribs that prevent the plates from bending. Thermobox hot plates ensure that the contents last longer.