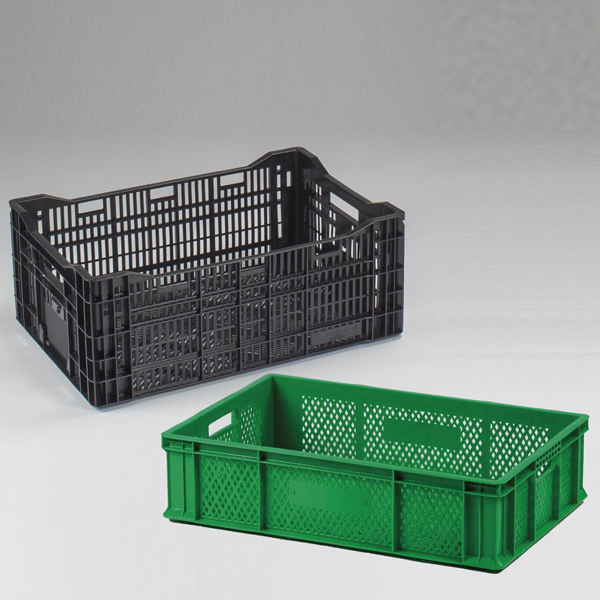 Stackable plastic agri crates with perforated bottom and slotted side walls are specially designed for agricultural products. We offer an ideal packaging for your products, which you have grown with care, which optimally protect the contents during transport and storage. Our crates are suitable for mechanical processing, are dimensionally stable, can be used several times and are easy to clean. Because of their perforated bottom and walls they ensure good ventilation of your products.
After the US, the Netherlands is the largest exporter of agricultural and horticultural products in the world. Ornamentals (such as flower bulbs, plants and nursery stock) often have the highest export value within the agricultural sector. To survive in this market, everything has to be optimized.
Strong plastic crates contribute to the success of the dutch agri sector
Thanks to the reinforced bottom, the flower bulb crate (art. no. SBE-64180-W20T-9) is extremely suitable for the automation of your process and has a stacking capacity of up to 750 kg.
The potato crate is a stackable container with a standard packaging unit of 30 kg. The perforated walls and bottom provide good ventilation, but do not damage the contents due to their fine structure. The contents are sealed so the buyer gets what he pays for.
Engels also supplies foldable transport containers for the export of agri products. Because these bins can be folded when empty, they take up to 70% less space during return transport.
Are you interested in breeding insects on a small or larger scale? Then you have come to the right place with us. Engels supplies and develops various solutions, including trays, frames, nets and accessories, to optimize the breeding of insects.
From standard small-scale breeding with manual feeding and harvesting or switching to semi/full automic breeding, we can help you with the necessary products.