litter and cigarette waste bins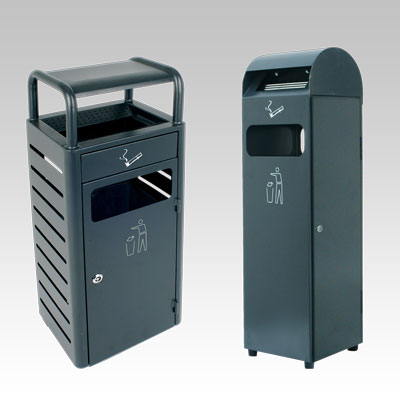 Ash and waste bins design objects? They can be! When you make your interior design of your buildings and offices, you carefully consider which furniture and materials you take. So why don't you set the same requirements for your waste collection products? With the increased rules on smoking, there is a need for special waste bins. Employees smoke on the premises, visitors put their cigarette out before entering the building. Placing ashtrays outside keeps your entrance clean.
Litter and cigarette waste bins
Cigarette butts, plastic and paper form a flammable mixture. Waste bins with a separate fraction for cigarette butts offer an ideal solution for this. Both for indoor and outdoor use. The smooth surface makes them easy to clean.
Outdoor waste bins with ashtrays are ideal for public areas. Available with different capacity sizes. Extinguishing plate for extinguishing the cigarette.