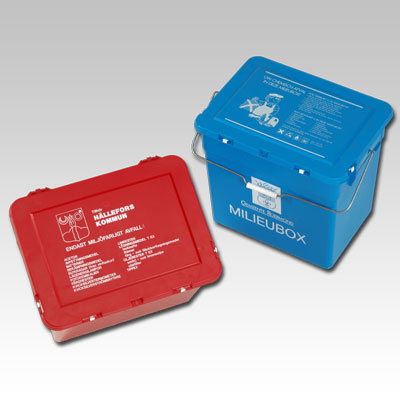 Matters such as oil, inks and solvents do not belong in normal waste incinerators and much less in the landfill or in the sewer. We supply collection boxes made of unbreakable, environmentally friendly plastic for the safe storage of hazardous waste, such as paint, batteries and medicines.
The content of the box is 30 liters, the height under the lid is sufficient for soda bottles. Thanks to the spacious handles, the box is easy to carry, and a handle can also be mounted for extra ease of use. The lid of the buckets is convex, so that no rainwater collects on it, and splash-proof. It is equipped with 4 closures, childproof according to NEN 1740, and can still be opened in one hand movement, even by the collector wearing gloves. All corners are rounded for easy cleaning. The box is stackable when closed and can be assembled with the lids open for compact storage.
Environmental boxes are available from stock in blue and/or gray and can be printed with your name and/or logo. We can supply other color environmental boxes on request. In terms of strength and ease of use, they are particularly suitable for the working environment. They are equipped with hinged lids with printed instructions and snap closures.