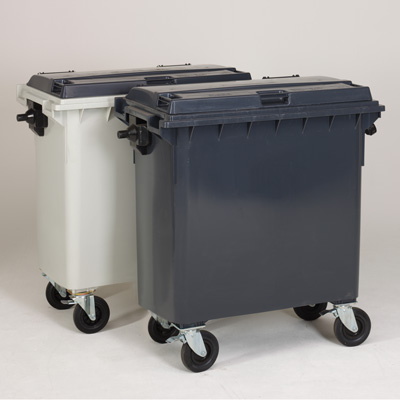 4-Wheeled containers, or wheelie bins, are mainly used for waste collection. Our wheelie bins are known as the strongest on the market and are therefore also used as storage containers for liquids or loose material. The wheelie bins are manufactured from impact-resistant plastic and are available from stock in various volumes and colour combinations.
Each plastic waste container consists of a HDPE (polyethylene) body and lid. The lid has two handles to make opening easier. A solid steel axle with two wheels with solid rubber tyres Ø 200 mm (black) is supplied with every plastic wheelie bin as standard. The wheelie bin is produced exclusively from new material, is UV- and frost-resistant, free of cadmium and other heavy metals and conforms to the EN 840 standard.
Engels has various sizes of 4-wheel waste containers in stock:
4-wheel waste container 660 liters
4-wheel waste container 770 liters
4-wheel waste container 1070 liters
We keep stock of all volumes wheelie bins in 5 colors. A special detail concerns the wheelie bins with a capacity of 1100 litres, they have a lid in the lid, so that, if necessary, even smaller waste can be disposed of in a simple way, without having to open the large lid. Both the body, the lid and the flap of the lid are available in various colors. Ask about the possibilities!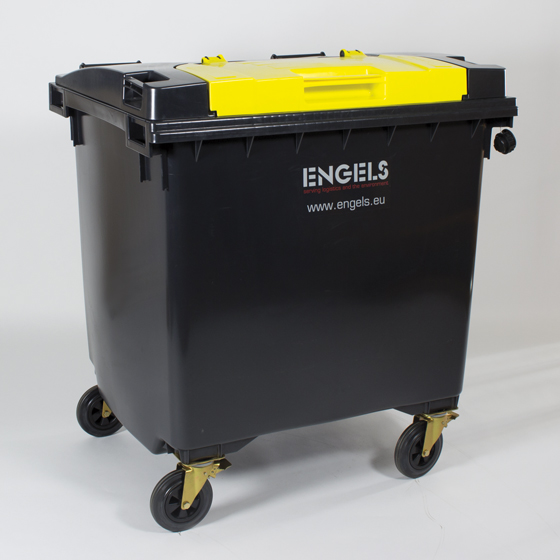 Engels has a wide range of options for our large containers on 4 wheels.
various locking options, such as a three-sided lock and a gravity lock
glass rosettes
insertion opening for paper
rain caps
extra insertion openings on the long side
central brake, can only be unlocked with a triangular key
handles on the short side
streak-free wheels
Due to the many options, Engels has succeeded in making the standard large wheelie bin suitable for every specific application.