conductive products (esd)
ESD plastic bins, cases or pallets help prevent damage to sensitive electronics, such as printed circuit boards. This damage can occur unseen due to Electro Static Discharge (ESD), causing equipment to stop working (properly) over time. The result is user frustration, loss of prestige and mounting warranty costs.
Why buy ESD conductive bins or pallets?
With ESD conductive bins, you can work safely and prevent damage and costs. However, the bins and pallets have other advantages, we have listed them for you. 
Advantages:
prevents ESD damage
available in various ISO and Euronorm dimensions
made out of heavy quality
almost unbreakable
easy to close with patented snap closure
many customization possibilities
suitable for dust-free environments
durable, because when they wear out, we make new bins of them.
mostly available from stock
With ESD plastic bins, cases or pallets from our range, you work safely and give static electricity no chance. Their resistance is such that electricity is gradually dissipated, so the contents never suffer damaging amperages, Our ESD safe products are mostly available from stock.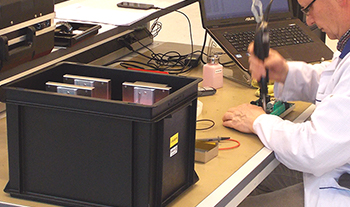 Where does ESD come from and how do you prevent it?
Every person carries a static charge. On rubber soles in dry weather, this is easily 40,000 volts. Enough for sparks, palpable shocks and causing explosions in gas mixtures. Worse: the imperceptible discharge of less than 10% of that can permanently damage electronic components.
Micron-thin connections in chips burn out completely, or worse, partially because of it. In the latter case, a watch, laptop or board computer, for example, breaks down some time after being put into service, causing great expense and annoyance. By adding a carbon powder compound during production, we supply packaging that prevents this misery.