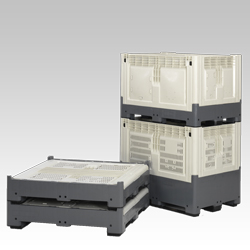 As an alternative to our one-piece pallet boxes, we also supply a wide range of foldable pallet boxes. Foldable pallet boxes are the go-to packaging in frequent back and forth transport of heavy materials and semi-finished products. A big advantage of these pallet boxes is that they are space-saving, both for internal storage and for return transport. The options Engels offers are extensive and have been tested through years of experience in various industries.
Foldable pallet boxes are available in a robust industrial version for the automotive industry and a heavy-duty hygiene version.
Smartbox, hygiene heavy duty foldable pallet box
Hygienic heavy-duty pallet boxes have no hollow spaces, a minimum of reinforcement ribs and no places where iniquity can be left behind. Maximum efficiency (volume/outer size ratio) thanks to the design. When folded, these pallet boxes form a sleek and smooth package, for example no water remains on them.
Klapa, automotive industry foldable pallet box
Industrial foldable plastic pallet boxes (GLT, Gross Ladungs ​​Träger), specially developed for the automotive industry. Available in several heights, in accordance with automotive industry protocols Galia (France) and VDA (Germany). The inside of the box is flat. The outside has reinforcement ribs, making the Klapa extra strong.
Pallets with foldable plastic collars
Pallets with foldable plastic collars are often used as reusable transport packaging (RTP). RTP's are a logistically interesting alternative for pallet boxes to create a flexible supply chain. When folded, the pallet boxes take up much less space, they have wider interior dimensions and are a lot cheaper than foldable pallet boxes with lids. The use of Aircell sheet material even makes the load-bearing capacity comparable.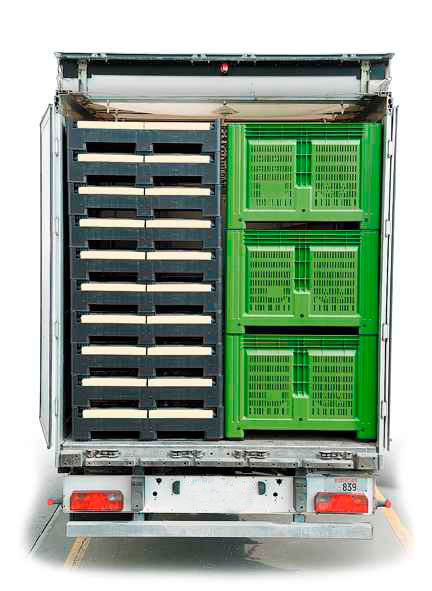 Collapsing the collar of the pallet box when empty saves space during storage and transport, reducing the volume by a factor of 1:2 to 1:3, depending on the height of the pallet box.
Contact us for custom-made sizes
Foldable pallet boxes can be used interchangeably with almost all non-foldable pallet boxes with the same base size. In terms of life expectancy, they are also comparable to one-piece pallet boxes. In addition, damaged parts (e.g. collision damage by forklifts) can be easily replaced without the use of tools.
We also supply all the service and accessories you know from us in the field of one-piece pallet boxes with our foldable pallet box series. We print them with your name, repair them if necessary and keep parts in stock. We also weld one long pallet box from two pieces, for example for bumpers, windscreen wipers or fluorescent tubes.