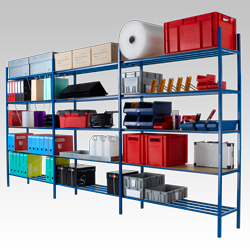 Warehouse equipment includes racks made of steel and plastic, trolleys and storage bins. All products supplied by us fit perfectly together. Storage bins fit in racks without loss of space, trolleys and mobile shelves are matched to our transport bins.
Engels has been supplying and installing storage racks since 1965. With a large factory stock and our own expert assembly teams, we set up small storage areas as well as large warehouse halls. Engels supplies various storage systems, but can, if desired, deliver many other programs.
In our webshop we only show a small part; Feel free to contact us for your project, without obligation.